Classes
All Classes
Monday

8.00-9.00am Fit Box with Bryce Hegarty
9.00-10.00am Vinyasa Yoga (Gentle/Intermediate 1) with Christine Smith
10.00-11.00am Fit Box with Bryce Hegarty
5.30-6.30pm Booty Barre with Georgia Nike


Tuesday

6.15-7.15am Booty Barre with Georgia Nike
8:00-9:15am Vinyasa Yoga (Gentle/Intermediate) with Adrienne Bail
9.00-10.00am Fit Box with Bryce Hegarty
12.00-1.00pm Fit Box with Bryce Hegarty
3.30-4.30pm Fit Kids with Bryce & Aaron
5.30-6.30pm Vinyasa Yoga (Intermediate) with Adrienne Bail


Wednesday

6.15-7.15am Vinyasa Yoga (Dynamic) with Adrienne Bail
9.00am Vinyasa Yoga
5:30-6:30pm Fit Box with Bryce Hegarty
5.30-6.30pm Booty Barre with Georgia Nike
6.30-7.30pm Vinyasa Yoga (Intermediate) with Rebecca Emblin

Thursday

6.15-7.15am Booty Barre with Georgia Nike
9.00am-10.00am Booty Barre with Georgia Nike
9:00-10:00am Fit Box with Bryce Hegarty
12.00-1.00pm Fit Box with Bryce Hegarty
3.30-4.30pm Fit Teens with Bryce Hegarty


Friday

6.15-7.15am Fit Box with Bryce Hegarty
8.00-9.00am Fit Box with Bryce Hegarty
9:00-10:00am Vinyasa Yoga (Intermediate) with Christine Smith


Saturday

6:30-7:30am Vinyasa Yoga (Intermediate) with Adrienne Bail
8:00-9:00pm Booty Barre with Georgia Nike
9:00-10:00am Fit Box with Bryce Hegarty


Sunday

Rest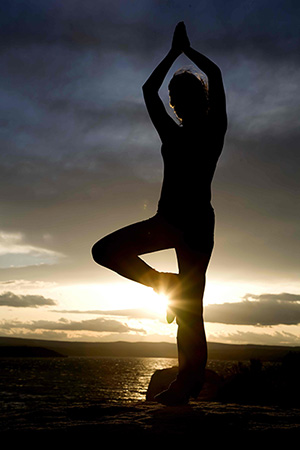 Why are you waiting any longer? It's time to look after your body and your mind.
There are a variety of styles of Yoga, however, our team of popular, highly qualified instructors specialise in Vinyasa Yoga. This is the practice of moving rhythmically and seamlessly through asana (postures) in deliberate and specific ways with the breath linking every movement.
Vinyasa Yoga is a superb way to develop core stability as it involves moving on the breathe into a variety of poses or postures which contract and stabilize the core region of the body.  Core stability relates to the bodily region bounded by the abdominal wall, the pelvis, the lower back and the diaphragm and its ability to stabilise the body during movement.  The main muscles involved include the transverse abdominis, the internal and external obliques, rectus abdominis, the hip abductors, hip flexors, lumbar spine and the diaphragm.
The lumbar spine is primarily responsible for posture and stability providing the strength needed for stability especially utilized in dynamic sports whereas the diaphragm is the main muscle of breathing which is why breathing is so important in providing necessary core stability when moving or lifting.
Vinyasa postures create strength and flexibility in our physical body and stimulate and balance our inner health systems (respiratory, digestive, cardiovascular, immune, endocrine). The focused and flowing breath, releases tensions and helps to develop a connection between mind and body with deeper awareness, understanding and appreciation.
Class prices:
Casual classes $18pp ($14 students & concessions) or
10 session passes $160 ($120 students & concessions) Valid for 3 months.
Located at "The Yoga Zone" at Limitless Health
Level 1, 24 Sunshine Beach Rd, Noosa Heads, QLD, 4567
(above Commonwealth Bank Noosa Junction)